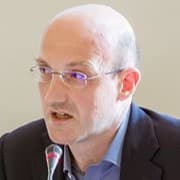 CERRE Research Fellow
Tilburg Law School
Giorgio Monti is a CERRE Research Fellow and Professor of Competition Law at Tilburg Law School.
He began his career in the UK (Leicester 1993-2001 and London School of Economics (2001-2010) before taking up the Chair in competition law at the European University Institute in Florence, Italy (2010-2019). While at the EUI he helped establish the Florence Competition Program which carries out research and training for judges and executives. He also served as Head of the Law Department at the EUI.
His principal field of research is competition law, a subject he enjoys tackling from an economic and a policy perspective.
Together with Damian Chalmers and Gareth Davies he is a co-author of European Union Law: Text and Materials (4th ed, Cambridge University Press, 2019), one of the major texts on the subject. He is one of the editors of the Common Market Law Review.